Colour Trends 2024
Explore the Extraordinary
Elevate the everyday and expand horizons through juxtaposed colour that is sure to inspire. With Blue Nova 825 leading the way, depth and intrigue are balanced by an undercurrent of reassurance. This alluring mid-tone features an enchanting duality, capturing the spotlight with endlessly classic appeal.
Discover the collection
New horizons are sought by exploring disparate places, thoughts, and colours to form endless creative possibilities. Softly saturated with a nuanced approach to contrast, the Benjamin Moore Colour Trends 2024 palette takes inspiration from the hues experienced through travels and moments that span beyond routine. On adventures near or far, we encourage collecting poignant colour moments with verve and personality that are unexpected and boundlessly magical.
Use individual hues on all four walls and ceiling for an impactful, monochromatic style, or pair contrasting colours for a bold approach to interiors. Use two darker hues on walls and woodwork for a cosy style, or outline light walls with a mid-tone for a lively aesthetic.
Be Inspired
Indulge in the joy of colour with variations in shade, tint, and contrast. Play with mood while blending traditional and modern styles to find the right balance of paint colours for your space. Embrace dark hues with a moody edge or create decadent rooms with spirited pastel walls. Join us as we take inspiration from paint colour pairings that are as diametrical as they are captivating.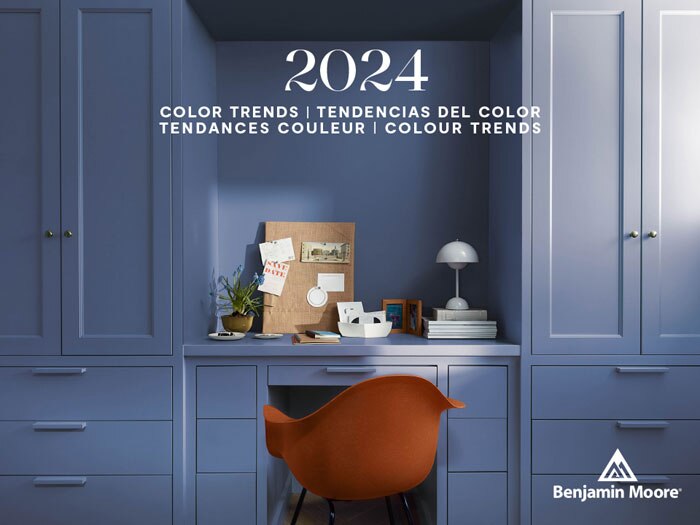 Download your copy of the Colour Trends 2024 brochure, and bring nuanced colour to your projects, mood boards, and designs.

Download Brochure
Upper Wall
OC-17
White Dove
Walls, woodwork and ceiling
070
Topaz
Walls, woodwork and stair risers
OC-17
White Dove
Woodwork
OC-17
White Dove
Near wall and woodwork
OC-75
Pristine
Far wall, woodwork and ceiling
1560
Antique Pewter
Woodwork and ceiling
2136-20
Regent Green
Walls and shelves
825
Blue Nova
Walls and woodwork
CSP-950
Honeybee
Ceiling and coving
2170-50
Teacup Rose
Fireplace wall
1674
Polar Sky
Mantel
1560
Antique Pewter
Woodwork and panelling
OC-17
White Dove
Cabinets and walls
OC-75
Pristine
Walls, woodwork and door
1560
Antique Pewter
Fireplace wall
1674
Polar Sky
Wall and dado rail
825
Blue Nova
Mantel
1560
Antique Pewter
Walls and woodwork
2170-50
Teacup Rose
Walls, woodwork, ceiling and cabinets
2136-20
Regent Green
Please note, on-screen and printer colour representations vary from actual paint colours