Stylish, stimulating and functional – turn your study into a productive and inspiring space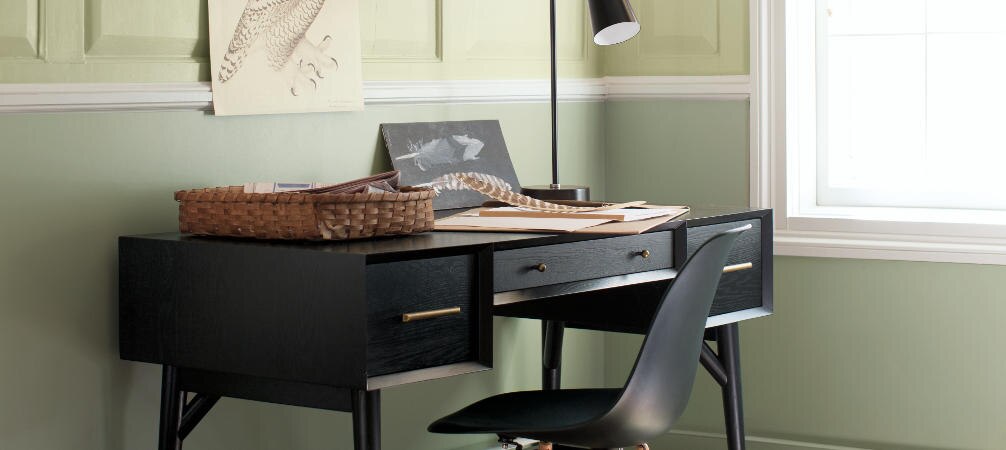 With an ever-increasing number of people working from home, the study (whether it's a whole room or simply a desk in the corner of another space), is becoming a part of the house where we are spending more and more time. Whether you want to create an uplifting creative hub or a calming, reflective space, our Regal® Select paints will give you a sophisticated look and stunning depth of colour.
Our tips for choosing a study scheme
A pop of colour
Scientific studies have shown that the use of whites or, on the opposite end of the spectrum, too many strong, vibrant colours in office spaces can be linked with poor productivity. Colour psychologists recommend sticking with soft neutrals and muted, greyed-off hues to promote concentration and also help to prevent eye fatigue. If you want to create more visual interest, try adding small pops of colour to an overall neutral scheme, such as painted furniture or accent colours on bookcases.
Get in the zone
If you are creating a study area as part of another space, "zoning" with a harmonious or complementary shade will help to tie the spaces together but prevent them from blurring into one another. A simple floor to ceiling panel of colour behind your desk space can be really impactful. Or, why not use our versatile Chalkboard paint (available from 1st December 2016) , which is available in all of our 3,500 shades, to create a really useful area for all those important reminders
Please note, on-screen and printer colour representations vary from actual paint colours