Whether you are hoping to spark their imagination, or give them their very own hideout, choosing a kids' room paint color should be fun. With 3,500+ options, Benjamin Moore has the paint color for every kid, and every personality.
Our tips for choosing a kids scheme
Balancing Brights
Ask children what colour they want for their room, and big, bright hues top the list. Knowing that this is the space where they sleep, study and play: balance is the key.
A colour like Yellow Highlighter 2021-40 is fabulous and bright, and can be softened by Cotton Balls 2145-70 on woodwork and complemented by Downpour Blue 2063-20 as an accent. Blend these saturated tones with neutrals, like greys and beiges, for bedding, pillows and other room decor.
Beyond the Pale
If you're the practical type, you may be interested in colour choices that will transition seamlessly from infant to toddler to big kid.
To align a kid's room alongside their growth spurts, consider reserving bold colours for room decor or furniture, allowing a practical neutral or pale hue on walls to stay tried and true, year after year.
Keep it Complementary
The chemistry that exists between colours on opposite sides of the colour wheel - known as 'complementary colours' in colour and design parlance - is palpable. Complementary colour schemes that include primary or bold colours are said to create excitement or high energy (think sports team jerseys).
Explore how these types of happy colour unions - purple & yellow, blue & orange - can infuse any size room with a sense of whimsy, especially if you opt for deep, primary colours. Complementary colour schemes can be a bit too bold for some, so using a primary with a lighter or darker complement offers a more subtle option.
Accent on Fun
Make a secondhand find more kid-centric by reviving it with a fresh coat of paint.
Our ADVANCE® water-based paint can be used on furniture*, cabinets and woodwork to provides a durable and beautiful finish. Colourful accent furniture can provide a smile-worthy pop of colour in an otherwise colour-neutral space.
*Not recommended for toys and cots.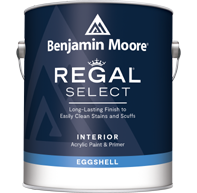 Regal® Select Interior
Outstanding durability and washability
Please note, on-screen and printer colour representations vary from actual paint colours