Hall, stairs and landings ideas and inspiration
Create a balanced and harmonious feel throughout your home with a colour scheme that flows seamlessly, via your hall stairs and landing, to connect one space to the next.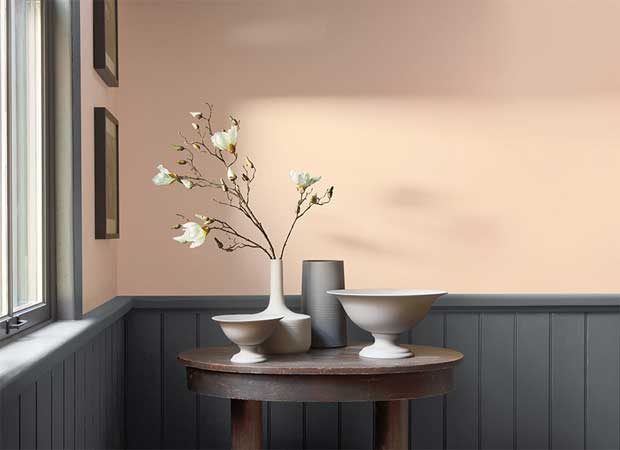 The hall, stairs and landing connect all the rooms in your home so, rather than defaulting to white or lacklustre magnolia, making the right colour choice in these spaces will give your home a sense of harmony and flow. For high traffic areas, Benjamin Moore's Aura® paint gives you a stunning depth of colour but also, critically, the highest level of durability to withstand the wear and tear of daily life.
Our tips for choosing a hall scheme
A Grand Entrance
Your hallway is the space that greets your guests as they arrive in your home, so it is a great opportunity to make a statement about your design style and to create a welcoming atmosphere. Neutrals of course work well, but consider a pop of a stronger colour, perhaps to highlight an architectural feature or on the woodwork, to create a more dramatic, eye catching look.
Go with the Flow
Choosing a colour that coordinates with the rooms that feed off the hallway is a great way to help your home achieve a balanced and harmonious feel. But that doesn't mean you should default to neutrals - choosing a shade in the same colour family (i.e. a slightly darker or lighter version of the same colour) or an adjacent colour family are good options if you really want to steer clear of beige.
Let there be light
In British homes, our hallways are often narrow spaces that lack natural light. If you want to introduce colour without going too dark on the walls, consider pastels greens, blues and pinks.
Please note, on-screen and printer colour representations vary from actual paint colours