A Fresh take
Exceptionally flattering, Benjamin Moore pales are a feel-good, look-good way to live. Think sweet pea pinks, ripe green melons and duck egg blues. Layer them to create dreamy, beautiful backdrops that feel modern and always fresh.
A pop of terracotta red combines with this aqua- toned blue to stunning effect.
Walls in Wythe Blue HC-143
Table in Terra Cotta Tile 2090-30
Trim in Gray Sky 2131-70
Layering these two gorgeous purples on the walls and trim creates a contemporary feel.
Walls in Winter Gray 2117-60
Window trim in Sanctuary AF-620
Chair in Twilight Zone 2127-10
This bright breakfast nook pairs a soft, clean yellow with a stony neutral and versatile off-white.
Near walls in Hawthorne Yellow HC-4
Far walls in Stone Hearth 984
Ceiling and Trim in Chantilly Lace OC-65
A serene kitchen is created by combining these two gentle blues
Near walls in Smoke 2122-40
Far walls in Caribbean Mist 2061-70
Cabinets in Ice Mist OC-67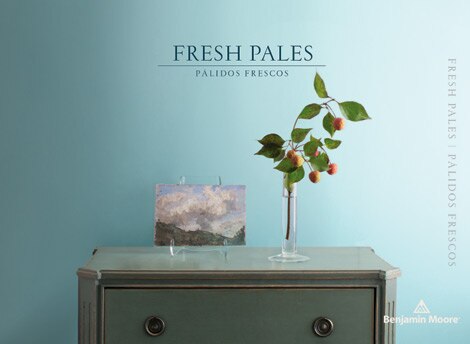 Download our Fresh Pales Colour Book to see more stunning schemes.
Please note, on-screen and printer colour representations vary from actual paint colours