Make a Statement
A little drama never hurt anyone. Make a scene - and a space - with our late night blues, scene-stealing greens, and stage setting rubies. Sumptuous colours that create a stand-out-from-the-crowd impression wherever they're used.
Two deep but tonal greens create a dramatic focal point in this room.
Walls in Desert Twlight 2137-40
Mantle in Sea Haze 2137-50
Pairing a teal tone and a moss green with crisp white wood-work makes a striking statement.
Walls in Tea Ocean 2049-30
Door in Brookside Moss 2145-30
Trim in Decorator's White PM-3
Two neutral tones are used on the trim to draw attention to the high ceilings and period window. The strong red seems to recede and create an opulent feel.
Walls in Cranberry Cocktail 2083-20
Windows in Wish AF-680
Cornice in Pashmina AF-100
This stunning kitchen breaks the strong grey with pops of wood, brushed steel, ceramics and a soft green-blue accent.
Walls in Wolf Gray 2127-40
Back of shelves in Wythe Blue HC-143
Chair in Beacon Gray 2128-60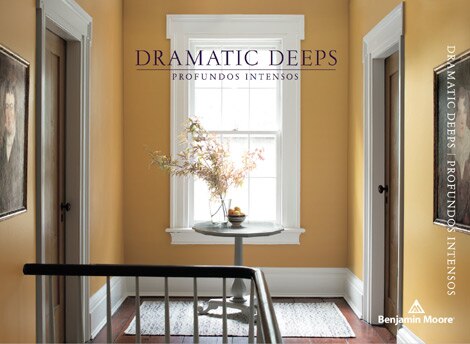 Download our Dramatic Deeps Colour Book to see more stunning schemes.
Please note, on-screen and printer colour representations vary from actual paint colours